Just recently, sometime earlier this year, The Mavin Records boss (Don Jazzy) Made the sum of $300,000 from NFT, you can watch the Interview here
In this post, I will be showing you the step-by-step procedure to claim our ongoing NFT giveaway worth 0.5ETH (approx, $1,500). This giveaway is proudly sponsored by Unique FX Academy and Grid Design.
For the benefit of those that are just hearing the word "NFT" for the first time or don't really know much about it, congrats to you, as I will briefly give you a comprehensive explanation about it. Just relax and grab a cup of coffee as you read through.
What Exactly are NFTs?
NFTs (Non-Fungible Tokens) are assets in the digital world that can be bought and sold like other pieces of property. They are being stored on the blockchain like Ethereum, Polygon, etc., they can be in form of Artworks, Gaming, Music, etc.
When an asset is said to be fungible. it means that its units can be readily interchanged – e.g money. With money, you can swap a $20 note for two $10 notes and it will have the same value.
However, if something is non-fungible, this is not possible – it means it has unique properties so it can't be interchanged with something else.
How does NFTs Work?
Actually, a non-fungible token convert or turns a digital work of art and other collectibles like Music, Video, Games, etc. into a unique, verifiable digital asset that can be traded on various NFT marketplaces like OpenSea, Binance NFT Marketplace, Axie Marketplace, Crypto.com, Eden, etc. Most NFTs come with their own unique information, including ownership and transaction details stored under their smart contract. NFT creators can also add other details to their NFTs such as creator's identity, secure links to files, to their NFTs during transactions
Cryptocurrencies as digital forms of physical money that are controlled by a private cryptographic string of random numbers called Blockchain. Like physical money, cryptocurrencies offer the same values and help to enhance the digital economy acting as currency. Cryptocurrencies aid in converting a digital file into a non-fungible token referred to as 'minting' as well as act as the medium of transaction for NFTs.
Similar to cryptocurrencies, NFTs are also stored and traded on blockchains But aren't interchangeable like cryptocurrencies.
Having read through the above paragraphs, you should now be familiar with what NFTs are, and how they work. So, let's proceed to the main topic of this article
Info About the Giveaway
I. NFT price: 0.5 ETH (approx. 1,500 USD)
II. Collection Name: Ukraine Gangster
III. Giveaway will end by 31st of March, 2022
IV. Distribution starts by 5th of April, 2022
V. For every 5 referrals, you get 1 additional NFT from our other collections
VI. Use your Twitter handle as the referral ID
Step-By-Step Guides to Claim the Giveaway
For you to participate and claim the giveaway, the following steps must be taken:
Fill the google form link provided below
Click Here to fill out the form
Download and Set Up TrustWallet
Step 1: Download TrustWallet app from Google PlayStore or App Store
Step 2. Once you have downloaded and installed the app, open Trust Wallet and tap on "Create a new wallet".
In the next step, you will receive your 12-word recovery phrase, which acts as a backup for your funds.
IMPORTANT: There is no way to change or recover your 12-word phrase if it's lost or forgotten.
If you lose your recovery phrase you will lose your funds and assets with it.
Trust Wallet is completely different from traditional bank accounts.
You are the true owner of your "Money", and "Assets" Trust Wallet can never access your coins.
It is technically not possible for us to recover wallets since we do not have access to your recovery phrase (only your 12-word recovery phrase can be used to restore access to your wallet).
Step 3. Before you finish the step of creating the wallet, verify that you wrote down the 12-word phrase in the correct order.
IMPORTANT: It is strongly recommended to do your backup now and store it somewhere safe!
And that's it, you are done!
Copy Your ETH Adress
Here's how to find your ERC20 address on Trust Wallet: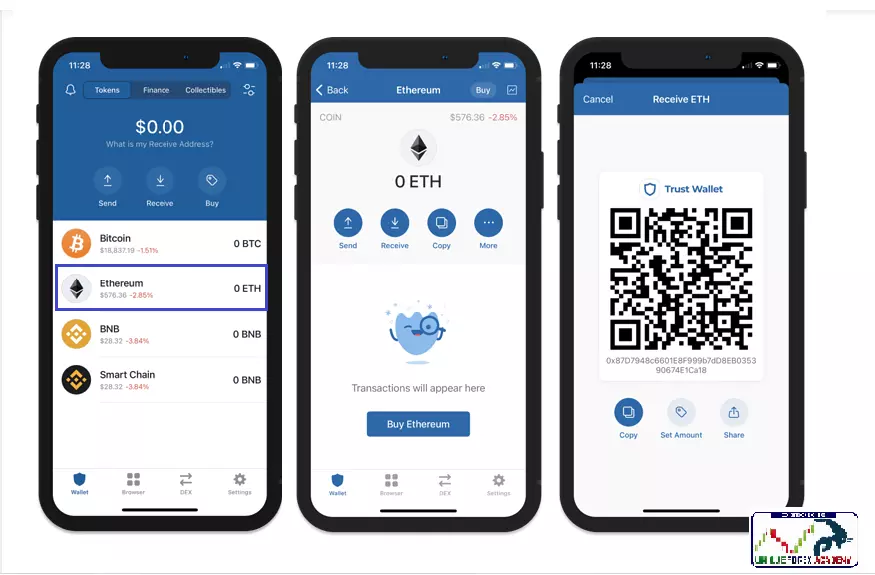 Open Trust Wallet.
Navigate to the wallet page.
Tap on "Ethereum" to open your Ethereum wallet.
On your Ethereum wallet, tap on "Receive".
Tap on "Copy" to copy your ERC20 address.
---
Paste Address in Google Form
Having completed all the given tasks as instructed in the Google Form, paste the ETH you copied from the previous step into the below section of the form then Click Submit
Conclusion
Having read through this post, you should now be familiar with what NFTs are, and how they work. Also, you've just learned how to create a crypto Wallet address using TrustWallet.
Hence, I want you to put all that you just learned into action.
Furthermore, another post will be released on how you can sell the NFT you received after it has been distributed.
Kindly share the article with your loved ones, also make sure you put your question in the comment section below.
Thanks, Love you all.
Other Articles